Damaged Hard Drive?
Stop! Don't make it worse!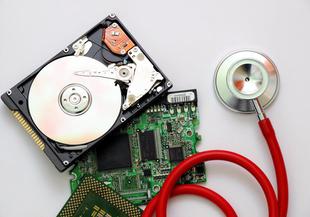 Computer files recovery services. We recover data from hard drive that is beyond recovery including mechanically damaged drives. We can recover important documents in most situations including virus infection, accidental deletion, system crashes, corruption and hardware failure. We have fast turn around time. In most cases we can recover the files on your damaged drive the same day of service.
Expert data recovery services
Computer files recovery services. We Retrieve data beyond recovery. No Data, No Recovery Cost! We are local, you can drop it off or we can pick it up. Shipping the drive to another facility can cause further damage to an already damaged drive. Day, Evening and Weekend appointments available.
Data Recovery Services
Most Common Problems
Hard drive makes clicking sound.
Mechanical hard drive failure
Hard drive surface damage
Accidental data or file deletion
Accidental reformatting of RAID
Deleted or corrupted log file
File system corruption
External drive turns on but no files
Devices we recover data from
Desktop Computers
Laptop Computers
External Hard Drives
RAID Drives
USB Flash Drives
iPhone data recovery
SD Card Data Recovery
Apple, Microsoft and all Brands
Types of Data Recovery Services
Level 1 Data Recovery. Recover files that were accidentally deleted from a drive that is in good working condition. Same day service is available on Apple Mac and windows hard drives or any other media type.
Level 2 Data Recovery. Drives that have been formatted or have file system issues. These drives require more advanced methods of data recovery. It can take up to one week to recover the data on failing drives.
Level 3 Data Recovery. Drives that have a mechanical hard drive failure or surface damage. These drives require extreme care and data recovery procedures. It can take up to three weeks to recover the data.
Note: Diagnostic fee is included in the total cost of all Data Recovery services. Files will be placed on a DVD or a USB drive that you can purchase from us. Once the data is recovered the damaged drive is disposed safely and securely in an environmentally responsible manner. Please click here to read our Terms and Conditions and Privacy Policy.
Customer Success Stories
Services provided: Data Recovery and Computer Support, Greenwich, CT
Rating:
"All my files were recovered successfully and I am very happy with the data recovery services. I accidentally deleted my files on my work laptop when I was cleaning out my computer. I had initially sent it to a different data recovery company but the data recovered was not readable and the files would not open in word or excel. I then contacted Geek Team data recovery services and they had all the data recovered for me within two days. I worked with Jane and she was fantastic. I had organized all my files in folders. Jane not only recovered all my data but she also recovered the directory structure and made sure all the files would open. She also came on-site to my home and quickly repaired a computer that would not connect to the internet and setup internet security and parental control software. I would highly recommend them to anyone needing to have their data recovered or computer repaired."
Gerardo Patino, Greenwich, CT
New York – North East Coast Director of ProMexico
Services provided: Macbook hard drive data recovery and Computer Support, Greenwich, CT
Rating:
" As a self-employed marketing professional, my computer is my livelihood. So when my computer wasn't performing right, I had to do something and didn't readily have an IT department to rely on. Jane at Geek Team determined that my hard drive was failing. She recovered and backed up the files, installed a new solid state hard drive, loaded the new Yosemite operating system, and migrated the backed up files to the new hard drive. The system is fast and better than ever – at a fraction of what it would have cost to buy a new laptop with the same specs. On top of that, I had a failing external drive with a ton of valuable data. Jane was able to recover every last file saving me many a sleepless night. I've found my new IT department."
Chris Mesigian, Ridgefield, CT
11-25 Sports Management Group.
Data Recovery on SD card
Rating:
I photographed a very important once-in-a-lifetime-all-day family event. People flew in from every corner of the country. It was spectacular, tearful and joyous. The next day I took the SD card out of the camera, put it into the card reader, then into the computer and OH NO!!!! My computer could not see the card. I put it back in the camera and it could not be read there either. The camera asked if I'd like to format the card— ABSOLUTELY NOT! It would have been a true test of unconditional love for me to tell everyone the pictures were all lost. I faced being banished for life. That's when I called the Geek Team. Jane (or should I say "Super Jane") was able to recover all 3,000 images. A secret I am keeping from everyone except those of you who might be facing the same anxiety right now. Bring your SD Card, hard drive or digital thing that isn't working to Super Jane. DO NOT try to fix these things at home—you will not be saving money, you'll be taking a chance you'll be alone for the rest of your life!replyReplymore_vert
James Russek, Stamford, CT
Services provided: Data Recovery and Computer Support, Greenwich, CT
Rating:
"Excellent prompt and friendly computer service. The Geek Team can take care of all your complex technology needs. The geek transferred my 7000 contacts from my blackberry smart phone seamlessly to my iPad, outlook and gmail contacts. I am very happy with the services."
Niron Stabinsky, Rye, NY
Data Recovery from damaged hard drive
Rating:
"Jane was very helpful in recovering a my wife's damaged lesson plans on her damaged hard drive. She was very responsive to any questions I had."
Ian King
Naugatuck, CT
Data Recovery on broken external drive
Rating:
"My daughter physically broke my external hard drive. It contained the only copies of all my family photos going back twenty years including all of our wedding pictures. I was terrified I had lost all of my pictures forever. I spoke with Jane at the geek team who was very honest and reassuring. They kept in touch periodically about updates and ultimately were able to recover all of my pictures 100%. I was thrilled with their service and definitely recommend them."
Joahd Toure
Stamford, CT
Data Recovery on hard drive failure (mechanical)
Rating:
"Jane is a pro who knows her trade well. I had a near catastrophic hard drive failure (mechanical) and she recovered all of the data. I hope I don't ever need a hard drive recovery again, but if I do there's no one else I'd consult other than her. Call her with confidence she'll get it done."
Mike D.
Norwalk, CT
Data Recovery on hard drive failure (mechanical)
Rating:
"When everyone else tells you your data is lost, Jane from the Geek Team stands firm and assures her clients that she has never failed in a data recovery challenge. Of course she was right. Thanks for saving my research."
Jeff Roseman
Fairfield, CT
MacBook Data Recovery on damaged hard drive
Rating:
The geek team , and their CEO Jane are miracle workers. They performed Data Recovery on my MACBOOK. My data was all recovered, and in record time. I was quoted much higher prices, and longer wait times from other competitors. The geek team was able to work with me , and fix the problem at hand. If I could give 10 STARS I WOULD. I HIGHLY RECOMMEND THE GEEK TEAM FOR ANY COMPUTER REPAIRS MAC OR PC!!!!!!
Daniel Cohen
Greenwich, CT
iPhone Data Recovery
Rating:
"My phone ended up getting ran over… it was totally demolished… Jane was able to recover the pictures and videos I wanted off the phone! The data recovery alone was so extensive I am beyond impressed by the job she did! I'm so thankful to have those memories of my daughter again! Highly recommend."
Jill Borsey
Stamford, CT
MacBook air data recovery
Rating:
"Excellent results! Great experience working with Jane. She recovered all my files, repaired and upgraded my MacBook Air! She also helped me to setup up a backup system for me. Extremely knowledgeable about Apple products. The best part … she can come to your home and/or meet at any convenient place for you. Highly recommend Jane and her team."
Paulina Hernandez
Greenwich, CT
MacBook air data recovery
Rating:
"Excellent results! Great experience working with Jane. She recovered all my files, repaired and upgraded my MacBook Air! She also helped me to setup up a backup system for me. Extremely knowledgeable about Apple products. The best part … she can come to your home and/or meet at any convenient place for you. Highly recommend Jane and her team."
Paulina Hernandez
Greenwich, CT
Data Recovery on older hard drive retrieved photos
Rating:
"Jane is an expert and was extremely helpful through out the data recovery process. We had an old hard drive that was damaged and she was able to recover over 6 years worth of pictures and documents in a short period of time at a better price than other competitors. Very grateful to have had the help from Jane."

Richard Drago
Greenwich, CT
Data Recovery on older hard drive retrieved photos
Rating:
"Jane was able to recover our files which were corrupted when Windows 10 automatically downloaded! Subsequently she has purchased and installed our new computer, backup and wifi capable printer. Jane has been a great help to us and we definitely recommend Geek Team!"

Donna McLaughlin
Greenwich, CT
Windows computer support and printer setup
Rating:
"After more than 12 years with the same IT person, he decided to retire and I needed a new IT contact, my first phone calls were to Geek Squad, Computer Super Center and Geek Squad but none gave me any confidence that I was going to receive professional service. Upon contacting Geek Team and speaking with Jane, I felt that I had found my new IT guru!!! Jane is amazing and am so thrilled to have her on my team!!!"

Venera Spadaro
Greenwich, CT
Mac Data Recovery
Rating:
"Jane at Geek Team was great in recovering all of my data after computer crashed. She is professional, courteous, and very knowledgeable. Would highly recommend her services to anyone."

Simela Athanasiadis
Greenwich, CT
SD Card Data Recovery. Westport. CT
Rating:
"I needed to retrieve data from an SD card immediately. Jane was able to find the deleted photos and put them all on a flash drive. Saved the day and done quickly and reasonably."
Mark Molesworth
Westport, CT
Data Recovery on iMac. Westport. CT
Rating:
"Jane was a very good choice in someone to go to when my computer had serious issues. She was very straight and upfront about both the issues with my computer as well as what she could offer in terms of help, which was to save all of the files on my hard drive. She was also extremely quick with her services which helped out a lot."
Miles Hurley
Westport, CT
Data Recovery on damaged laptop. Westport. CT
Rating:
"Jane was very helpful. I needed lost data recovered off an old, inoperable laptop. IN a day, Jane recovered all of the data at a reasonable price. In addition, Jane was a pleasure to meet and work with. You can't do better than a nice person who solves a problem for you that you would not otherwise solve yourself."
Jeff Rosenthal
Westport, CT
Data Recovery on drive with mechanical failure in Westport. CT
Rating:
"GeekTeam is the way to go for data recovery. To be honest I thought my hard drive was not going to be recovered because of the damage it had taken when I dropped it. I am a Musician / DJ and music is everything to me, but as a rookie mistake I failed to back up my drive, on the go with constant shows I got caught slipping and lost all of my data. Thankfully Jane was able to assist me with the whole process. She was Kind, Knowledgeable, and very Reasonable. With that said i was super ecstatic when I reviewed my files and realized that she had recovered 100% of my hard-drive. Mind you I had well over +200 gb of music on it !! I would recommend any individual to Geek Team, They're honest, very reasonable, they get it done, and they do it right, plain and simple."
Angel Ripolls Jr
Westport, CT
Data Recovery on Macbook Pro
Rating:
"Geek Team was very friendly and helpful in recovering the data I would've lost when the hard drive for my MacBook Pro failed. They were VERY honest and reasonable when it came to pricing, and completed the work very quickly. They were very approachable and easy to contact, and gave me many options while being considerate of the fact that I'm a student. They recovered all documents and photos I would've lost, and they will walk you through your hard drive to show you where all of your files are, assuring you that all work has been done. I felt very comfortable doing business with them and highly reccomend consulting Geek Team before anyone else for data recovery. I truly look forward to working with them again if need be."
David Mezias
Westport, CT